CHAMAKTE SITAARAY 2018
June 23 2018 – A full evening of entertainment with Kathak, Bollywood numbers, western pop, A taste of professional Kathak. With Bollywood Fusion, Hiphop and ballroom dancing in the mix.
It's a platform for Our students #CS2K18 #Dance #Kathak #ChamakteSitaaray #IndianicaAcademy #PadmaKhanna
 THIS IS ONE NIGHT YOU DON'T WANT TO MISS!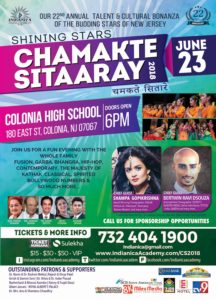 "Come watch our budding stars entice you with thei r ravishing dances in all different styles from the fine art of Kathak to the playfully spirited Bollywood! Our students at Indianica have worked hard all year to prepare for this show and impress YOU with their mesmerizing talent!"
One of the key points we always stress when it comes to choo
sing us, is Our Annual Show – Chamakte Sitaaray (Shining Stars). It is the focal point of the year. A chance for every student to come together at whatever stage they are at, and showcase all they have learned. The beauty of this, is the guests we invite. Some of the biggest names in Bollywood come to us and take part in this annual extravagance. With crowds over over 1000 guests, it really spotlights the students and gives them a taste of what professional Kathak is about. It's also a full evening of entertainment with several Bollywood numbers, and some western pop, Kathak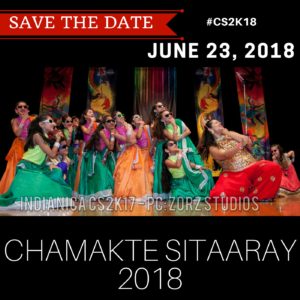 Bollywood Hiphop ballroom dancing in the mix. It's a platform for the students. Something we have done since 1997. Something no other institute in the TRI-STATE has done.